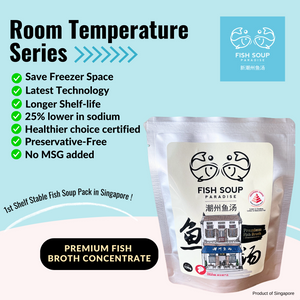 All time favourite Premium Fish Broth, an authentic Teochew fish soup recipe using only the finest ingredients - The umami of a real fish broth. Highly versatile broth that can be adapted to fit a wide range of cultural flavours simply by varying the ingredients, herbs and spices.

Healthier Choice! Lower in Sodium and Saturated Fat.
Good News! New Improvement made to our Premium Fish Broth Concentrate! Now you can keep it in room temperature. No Preservatives added! You can bring our Fish Broth along for your next oversea trip!
Storage: Keep in dry cool place
Usage: Soup, Noodles soup, Porridge, Steamboat and any dishes that requires broth. 

Cooking Method: Pour content and add up to 400ml water to a pot. Boil and add in your ingredients.

✅ No preservatives, No MSG, No pork, No lard added
Ingredient List:
Chicken, Soybean, Anchovies, Ginger, Fish Sauce, Fish Bones, Sole Fish and Pepper.